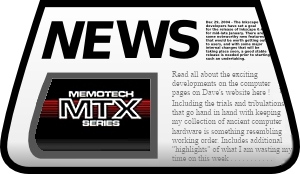 December 2013
November 2013
October 2013
September 2013
August 2013
When doing various repairs and drawing circuit diagrams, I have needed copies of datasheets for components used on a number of Memotech PCBs. Whilst most of the datasheets can easily be found, as many of the devices used on Memotech boards are now obsolete, some have been quite difficult to locate - for me anyway. I have created a Datasheets page to make them available here to make it easier for anyone else who may need them.
July 2013
July was a "bumper" month for discovering "lost" MTX software, firstly, Diarmid Gibson contacted me through the website and made available a number of MTX games and utilities, along with tape covers and documentation - as ever, our resident format conversion expert (Paul) has started to convert the software to .mtx files.
Then Mike Rudkin had problems with his FDX and asked me to try to recover some software from some of Jim Wills' legacy 5.25" disks for an event that Jim has coming up, obviously we'll give Mike as much help as he needs to fix his FDX - but, in the meantime, every cloud . . . . . . .
June 2013

The Memotech MTX500 is 30 years old this month
It was officially released at the Earl's Court Computer Fair
16-19th June 1983
See the Articles page for details
May 2013
April 2013

This item will only be available between 00:01 and 23:59 0n 01/04/2013
March 2013
February 2013
January 2013
See Other "News"