| | |
| --- | --- |
| | The Sinclair ZX Spectrum |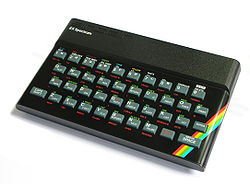 Released in 1982, the first version ZX Spectrum shown here was available in 16KByte (£125) and 48KByte (£175) models and brought colour and sound to the ZX range. The introduction of colour provided a viable platform for games, most of which were originally written by the growing army of hobbyists, which led to an explosion in the machines popularity. The keyboard featured tactile keys, the rubberised keys were a great improvement over the ZX80/ZX81 membrane keyboards but retained the same multifunction keyboard layout as the earlier machines.
The ZX Spectrum eventually went through various incarnations, both before and after the sale of Sinclair's computer business to Amstrad in 1986. This page describes the model that I bought in 1982 - a 48KByte Version 1, For details of the later models, please follow the links below.
Specifications - Version 1

Processor
Zilog Z80A
Clock Speed
3.54 MHz
ROM
16 KBytes
The Complete Spectrum ROM Disassembly
RAM - fitted
16/48 KBytes
RAM - maximum
48 KBytes
Display
22 lines of 32 characters per line

256 x 192 pixel resolution

Colours
16
Sound
1 Channel, 5 Octaves
I/O Capability
Z80 Bus, RF Out (TV), Cassette Interface
Data Storage
Cassette Tape
Built in languages
Sinclair BASIC

See how Sinclair BASIC compared against competitor machines of the time when running PCW Benchmark tests here.
ZX Spectrum Introduction Manual, from World of Spectrum,

.
ZS Spectrum BASIC Programming Manual

There is a wealth of information available on the internet which describes the various models of the ZX Spectrum. Check out the sites below for more information :-
Planet Sinclair
Covers the full range of products from Clive Sinclair, including the ZX range of computers, including the ZX Spectrum
World of Spectrum
Quote: "The official world archive for the Sinclair ZX Spectrum and the largest on-line gaming center on the Internet" - Everything you might wan to know about the ZX Spectrum is here.
Wikipedia
ZX Spectrum Entry on Wikipedia
Retronisle
Great source for vintage computer manuals

Spectrum Emulators

zxspectrum4

Check out this great ZX Spectrum emulator for Microsoft .NET

(Requires Microsoft Windows XP, Vista, 7. Shareware)

Zero
A good, and free, Spectrum emulator. Zero includes inbuilt functionality to locate and download Spectrum games programs directly from the World of Spectrum archives. Read the full features here and download from here.

Requires Microsoft.Net Framework 3.5 or later and, depending on the version, may have additional requirements like specific DirectX dependencies (see the Readme) in the install package.

Old Computers
Website dedicated to, yes, old computers