MTX GameBase
Check that the GEMUS MEMU
option points to the location
where you installed MEMU.
GameBase is essentially a database application which, in it's own words "is an emulator front-end and database utility. You can use it to catalogue, browse and play all of your favourite old games from the golden age of videogaming."
The latest version of GameBase is available from SourceForge or you can download the Version 1.3 Setup program from here.
Paul Daniels has created a "GameBase" database for Memotech which makes loading Memotech games easy - all of the required command line options are preconfigured in the MTX GameBase.
Paul has generously allowed me to make his efforts available for download here. The GameBase includes screenshots of most of the MTX software, often showing the required keys to control the game.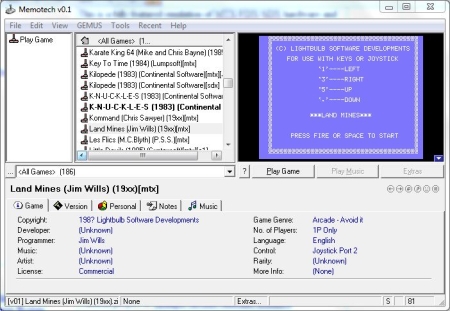 The Version 0.1 download includes only the GameBase database, not the associated software & games. You need to download and install both the MEMU and Gamebase programs in order to use the Memotech GameBase database.
This file contains scans of a number of the original game tape covers which can be displayed from within the GameBase too. (This file is a 20MB .rar download).
The Version 0.2 download includes the games, application programs, tape covers etc., and is 232MB !
25/02/19 Error in script file fixed