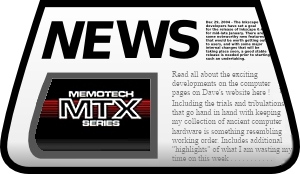 December 2014
November 2014
October 2014
September 2014
August 2014
July 2014
June 2014
Things are still a bit quiet on the website front - MTXPlus+ is still taking up most of my time
May 2014
Not many website updates this month - my focus is on the MTXPlus Bus Diagnostics Board
April 2014
A flurry of "new" software, courtesy of Paul Daniels this month!
March 2014
February 2014
Scam Website Warning : i-store-online.com
Although I know better, I was almost caught out by these scammers, read my embarrassing story
January 2014
A brief review of 2013 (the 30th Anniversary of the MTX computer)
The Memotech MTX was featured in The Register article, "30 years on: Remembering the Memotech MTX 500", if you have not seen it already, it is worth a read.
The past year has been very busy Memotech wise, the Facebook MTX500 Group continues to grow and the MTX User Forum is slowly starting to become more active. The first Memotech User Group meeting for a long time, Memofest 2013, was hosted by Jim Wills in September, although small, it was a great success and hopefully, the first of what will become a regular event.
Thanks to contributions from a number of people, lots of "new" material was added to the website, including Memotech product literature, magazine articles and a various software titles - we are well on the way to having a complete collection of Memotech software. The technical info on the site has also been greatly expanded - again, with contributions from various people in the Memotech "club".
My Memotech collection has had lots of additions in 2013, thanks to some successful bidding on ebay as well as generous contributions from other Memotech'ers.
| | | |
| --- | --- | --- |
| Description | Source | Gift |
| MTX500 (has 64k of RAM and 80 column board) | ebay | |
| A Tektronics Logic Analyser | Inaki Castillo | y |
| 5,25" Floppy disk drive | Tony Brewer | y |
| Old style SDX disk controller | private sale | |
| DMX80 dot matrix printer | Jan Seyfarth | y |
| Various items of Video Wall hardware, including an MTX512S2 | ebay | |
| MTX512S2 complete with SDX controller and 80 column board | Diarmid Gibson | |
| MTX512 | Gillian MacKenzie | y |
| SD card floppy disk drive emulator for use with my FDX & SDX | ebay | |
| Hi-Soft Pascal ROM board | private sale | |
| A MAGROM board | Martin Allcorn | y |
| A MTX Speculator | Martin Allcorn | |
More details can be found on the 2013 News page
See Other "News"