| | | |
| --- | --- | --- |
| | The Memotech MTX Series | |
REMEMOrizer - VGA Output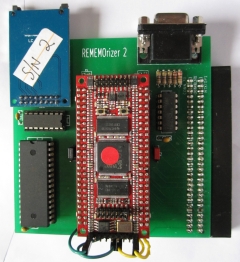 REMEMOrizer is great piece of kit, and the majority of users have no problems when using it. However, a couple of users have experienced some problems with the emulated 80 column card output to VGA, as highlighted on Andy's REMEMOrizer Failures page :-
Iain observes that REMEMOrizer's 80 column VGA output isn't acceptable to his TV (which supports VGA input).

Andy notes that the pixel clock used for REMEMOrizer's VGA output is 1.7% off - perhaps the TV is (legitimately) fussier than most.

Jon only gets 20 out of 24 lines on his 80 column output. He is using an "Advent" monitor. Reason unknown.
I thought it might be useful to tabulate user feedback on the subject in this thread on MEMEORUM - the Memotech MTX Forum. If you add your experience to this thread, I will include it in the table below :
| | | |
| --- | --- | --- |
| No Issues | Some Incompatibility | Not Compatible |
Manufacturer
Model
Description
Scanning Frequencies

Issues Reported

Horiz. (kHz)
Vert. (Hz)
Advent
MR17E-ABA
17" TFT
??
??
Only displays 20 of 24 lines
AOC
1460PSA
14" TFT (?)
??
??
Only displays 20 of 24 lines
Cibox
LW1922C
19" TFT (wide)
30 - 80
56 - 75
None
Eizo
FlexScan M1900
19" TFT
28.8 - 80
50 - 75
None
Samsung
Syncmaster 720N
17" TFT
30 - 81
56 - 75
None
Samsung
Syncmaster T220
22" TFT
30 - 81
56 - 75
None

VGA Compatible TVs

Panasonic
Viera
32" Widescreen
not known
not known
VGA and Composite OK
Sony
Bravia KDL20S3020
20"
not known
not known
VGA no lock, Comp. OK
| | | |
| --- | --- | --- |
| No Issues | Some Incompatibility | Not Compatible |