Site Computer News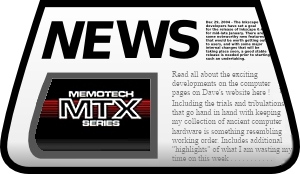 2012 2013 2014 2015 2016 2017 2018 2019
Latest News - November 2021
Due to popular demand (OK, Martin asked), I have made access to the pages on disassembling Memotech hardware more obvious and linked to them from the Repairs index page
Added some info to my MTX PSU page to document the internal fuse fitted to some MTX PSUs supplied to Europe. The presence of this fuse makes no sense to me - if you can explain it, please let me know.
October 2021
September 2021
Martin has provided a Bug fix for the CFX-II ROM
August 2021
July 2021
June 2021
Added another game disassembly from Martin - Goldmine
Bill Brendling has ported Z-Machine (an interpreter for Infocom text adventures) to the MTX. Bill's description of the process and links to download it are available here.
May 2021
April 2021
March 2021
February 2021
Another item for the collection! Jonas O'Brien in Norway recently advertised a Norbit Elektronikk Toolbox '85 on eBay but decided to donate it to me instead. The similar looking Toolbox '84 was advertised for use with MTX. The '85 has a slightly different lead and I/O sockets, but otherwise looks identical. Jonas also sent me an unmarked unit with the same lead and sockets as the '84 model for the MTX. Sadly, I don't have any documentation for it, but it's a great find!
Now that the much improved ReSource is available, I will make the original version of The Source available on request to anyone that can provide other Memotech documentation that is not already on the site - contact me if this applies to you.
January 2021
Expanding on Martin's original, Bill Brendling has contributed updates to ReSource
Another update to ReSource, this time by Martin, adding the details of his Diagnostic ROM board
Posted a review of the MTX500 from What Micro? of March 1984 (Courtesy of Rob Green)
December 2020
For all you budding MTX programmers out there, Martin has produced an updated version of "The Source" - originally written by Keith Hook as a guide to programming the MTX in assembly language. Martin's version is updated to include modern MTX add-ons, including MAGROM and CFX. Download available on my MTX Manuals page
November 2020
Bjørn-Tore Boberg has sent me photos of his newly acquired MTX512 with a Norwegian keyboard & ROM
Bill Brendling has developed a fantastic FTP Daemon for Martin's NFX hardware - see here for details

With NFX hardware and FTP, the MTX is now really at home on my network!
October 2020
September 2020
Bill Brendling has made some significant enhancements to Andy's NFX.COM program for the NFX hardware. The program now supports directory listing and allows the network parameters to be set from a configuration file.
August 2020
Martin has sent me one of his NFX prototypes to experiment with - thanks a lot Martin!
July 2020
June 2020
Arpad Virag has just shared more scanned copies of Memotech User Group magazines - thanks Arpad!
Jim Wills (Megastar Games) is making efforts to port DownStream Danger to modern hardware. As part of that process, Martin Allcorn has been able to recreate a full map of the game levels, as well as 20 levels from Rolla Bearing. Jim has agreed that the results can be posted here (but see the restrictions on re-use on the page.)
During this exercise, corruption in the original map file for Rolla Bearing was discovered. Rolla Bearing is included in the MAGROM image, a patched image can be downloaded to replace the current MAGROM ROM image.
May 2020
Lots of new updates from Bill Brendling :
April 2020
March 2020
February 2020
January 2020
Added a copy of the 1988 Texas Instruments, TTL Logic Data Book to the Technical Library
Posted an audio file of Maxima (Courtesy of Lars Muldjord)
December 2019
November 2019
Bill Brendling has created pre-built binaries for his fork of MEMU. Bill has also created a help page which describes the various builds for Linux, Windows and Raspberry Pi (Raspbian and Bare Metal versions). See here for details.
Uploaded various Memotech documents provided by Claus Baekkel, including . . .
October 2019
September 2019
Arpad Virag has just sent me scanned copies of Volume 1, Issues 2 & 3 from the Memotech Owner's Club magazine, they are now available to download from the Memotech Owner's Club download page.
The FDX system previously used by the Memotech Owner's Club was sold on ebay in July. Along with the system, the auction included a lot of software and documentation, much of which had been missing from my Memotech archive. The new owner, Arpad Virag, has kindly agreed to share much of this material with the group and has just sent me a scanned copy of Memopad Volume 00II, Issues 3&4 which is now available on the Memotech User's Group download page.
August 2019
Memofest 2019 has been confirmed for Saturday 12th October at Andy's place (Southampton,UK)
Norman Lambert has kindly sent me the Pascal ROMPAK that was used with the MTX that he sent me in 2017.
Paul Daniels has updated his GameBase for Memotech, download available here (thanks Paul)
July 2019
June 2019
Bill Brendling has released a Python script for assembling Z80 code. As well as supporting Microsoft M80 and Bill's own ZASM assembler, it also supports Martin's "home brew" assembler, allowing Martin's code to be compiled by users who don't use RISCOS.
Bill Brendling has released an updated version of his Bare Metal version of MEMU for Raspberry Pi
Posted a copy of the MTX Communications Manual on the Manuals Page (Courtesy of Stephen Usher)
May 2019
Bill Brendling has released an updated version of his Bare Metal version of MEMU for Raspberry Pi
An incompatibility between CFX and the original RS-232/FDX Interface board has come to light. As with REMEMOrizer, the FDX interface must be disabled to allow CFX to work when installed in a machine with an RS-232 board fitted. Martin has generated new GAL firmware that can be loaded into a GAL16V8 and used to replace the Lattice PAL on the RS-232 board. The source and binary files are available on the CFX page. If you cannot program a new GAL yourself, please contact me if you need CFX to operate in tandem with the RS-232 interface board.
Martin has completed his System Diagnostic Cartridge (SDC) prototype, it has lots of nice features, including a built-in hex editor and disassembler. You can read about it here
April 2019
Martin has been working on a plug in board to help diagnose MTX boot problems, we have called it the MTX System Diagnostic Cartridge (SDC). You can read about it here
See Earlier "News"
2012 2013 2014 2015 2016 2017 2018 2019