Site Computer News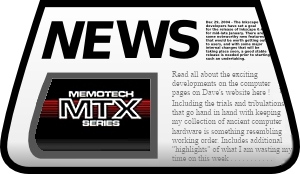 Latest News - July 2018
The MTX PC Keyboard Interface is now available to purchase. I have redone the web page and added an updated section from Bill Brendling on the Parallax Propeller code that runs the interface. (Thanks Bill!)
June 2018
May 2018
Arto Kivimäki has generously donated an MTX500. It was quite expensive to ship it from Finland, but as I did not have an MTX with a language ROM, it was worth it. As well as the Finnish keyboard and language ROM, the machine came with a copy of the MTX Operator's guide translated into Finnish in Finland.
Details of the "new MTX hardware interface" are now available . . . .

MTX PC Keyboard Interface

It is a small internal PCB that attaches to the keyboard header on the MTX computer board and allows a PC keyboard (PS/2 or USB) to be used alongside, or instead of, your existing MTX keyboard.
April 2018
Not many web updates I'm afraid, but things have been happening on the MTX front . . . .
The "new MTX hardware interface" is progressing - more details shortly
Memotech disk controller (FDX/SDX) USB Floppy Drive emulator available . . .

Do you have a Memotech disk controller (FDX/SDX) with unreliable drives ? It is now possible to replace the floppy disk drive(s) with a Gotek USB floppy drive emulator thanks to OpenSource firmware released by Keir Fraser. I have added one to one of my FDXs and it is working well - all for under £15 !
March 2018
February 2018
Phil Fagan has generously donated an MTX500 owned by his late brother, purchased when he was serving his apprenticeship, c.1983. The machine came in it's original box and polys, along with all of the original paperwork. It is in pristine condition and is the best MTX500 that I have - thanks a lot Phil !
Exciting (not really "exciting", but it is hopefully of interest) new MTX hardware interface coming soon . . . .
Paul Daniels has released an update to his MTX Development Tools - MTXShell
January 2018
December 2017
Bill Brendling has released an updated version of his port of MEMU for Raspberry Pi - MEMU-Pi
November 2017
October 2017
September 2017
August 2017
Timo Soilamaa is continuing to develop his ROM loader to allow unmodified MSX games ROMs to run on the MTX

It is still a work in progress, but, now runs on real MTX hardware, as well as MEMU - check it out here

Martin Allcorn in hosting Memofest 2017 on the 14th October in Hastings, UK
Courtesy of an eBay seller, I have uploaded a better quality scan of "Memotechniques" from "Personal Computer News", Issue 46, from January 28 1984 - see the Reviews page
July 2017
I have just completed a quite interesting repair on the MTX500 given to me by Wolfgang Joerger. As well as the almost obligatory VRAM fault, the machine had a failed TMS-4764 Mask ROM - direct replacements for these devices are not available - read how I resolved the issue here.
June 2017
Although not Memotech related, David Kimberlin-Wyer has contributed an article on how to replace the internals of a failed PSU in a Tatung Einstein TC-01 with an alternative open frame PSU.
May 2017
In a similar way to my "one-off" CFX Special, David Kimberlin-Wyer has provided details of how he modified one of Andy's memory boards and his MAGROM board to allow both to be installed inside his MTX.
April 2017
March 2017
February 2017
Having had a few "notes of interest", I ordered another run of MAGROM boards - Version 1.1

The MAGROM boards have now arrived and although they are working, they have a minor issue
January 2017
"Another year over. And a new one just begun."
The distributor of the MTX User's Club Germany has now put copies of the MTX-Info magazine on line
Posted a copy of the original CP/M ROM from the FDX SM1 Interface board
Another generous donation from a, or should I say an "ex", Memotech owner from Germany!

Wolfgang Joerger has just sent me a 64K "MTX500" with Twin Floppy FDX
It is in great condition and early indications are that it is fully functional - more details soon

Bill Brendling has reverse engineered the FDX CP/M 80 Column card driver - full details here
Status update for MTXPlus+ posted
A slight distraction to other activities, but there has been some renewed interest in MAGROM . . . .

If there is enough demand, I will get some more boards made, if you are interested, drop me an e-mail
See Earlier "News"