| | | |
| --- | --- | --- |
| | The Memotech MTX Series | |
Memotech Sales on ebay UK
2011 2012 2013 2014 2015 2016 2017 2018
This page had gotten to be far too large, I have now reduced the number of items on this page to the last 12 months or so, other items have been archived by year.
Despite their limited success in the 1980's, there seems to have been an upsurge in the popularity of Memotech machines with the "retro" computer community in recent years. I have started to keep track of the items coming up on the UK ebay auction site - you may find that this information is a useful guide to the price you can expect to pay if you are looking to pick up a machine from ebay or elsewhere.
I am not sure how long ebay keeps expired items live so I have grabbed a copy of the main advert's photo, along with a brief description and details of the sale. Items with a "sale" price marked in red, were either not sold or the item was ended early.
I will try to keep this page up to date, but will only create new entries after the listing has closed, in the meantime, . . . . . . . .
Check if there is anything from Memotech on ebay UK at the moment
Some simple, and probably obvious buyer's tips . . . .
Do you want functional machine or a "collector's" specimen? If you are looking for a model in pristine condition with all of its original accessories in the original packaging, you can expect to pay significantly more than for a working MTX. You are not likely to get a boxed, "as new", machine for much under £200, whilst a functional machine, with power supply, will probably be around £100-£120.

Be aware that MTXs are not always "what they say on the tin", for example, an "MTX512" that I bought off ebay has only 32k of RAM, i.e., the case actually houses an MTX500 system board. If the machine is advertised as working, you could ask the seller to do a simple check to determine how much memory is installed.

If one is not already shown in the listing, always ask to see a picture of the video/TV output, even just showing the "Ready" prompt. Failure of one or more video RAMs is a common fault, indicated by corrupted characters on the screen. (The fault is relatively easy to repair but requires replacement of one or more of the VRAMs which are not in sockets, soldering is required.)

Unless you already have access to a suitable power supply, which was normally provided by the Memotech external transformer or from an FDX system, you will have difficulty sourcing a PSU separately. Be aware of this if you choose to bid on a model with no PSU included.

The majority of adverts include words like "Vintage" and "Rare" - Binary Dinosaurs has an interesting and amusing take on "retro" computer adverts on auction sites here.

Whilst obviously far less common than a ZX Spectrum and the like, MTX500/512s do come up regularly on ebay. Other models such as the RS128 or MTX512S2, along with Memotech peripherals are much less common.
The chart shows an overview of the sale prices for MTX computers on ebay UK between 2011 and June 2017, the chart is based on working MTX500/512s, sold with a PSU and does not include postage & packing charges. It takes no account of condition or other items included in the sale. The two "outliers" were an MTX500 (£451) and an MTX512 (£536) sold in February 2013, both were boxed and in good condition, but no better than others sold at much lower prices - for some reason, the "market" appears to have had a temporary blip that month.
I find that the prices on ebay bear little relation to the quality of the MTX and have more to do with the luck of the draw. For example, the final auction price for two MTXs, sold around the same time and which might appear to be in the same condition, can be under £100 for one and over £200 for the other. Unless you are in a desperate hurry or you have money to burn, you may be better hanging on for one at a reasonable price, rather then going for one at all costs.
Based on past prices, I still believe that around £100 for a fully working machine with power supply is a fair price for both buyer and seller, though, at that price, it is unlikely to be boxed and probably not "pristine". Whilst, as you can probably tell from the rest of the website, I am big fan of the MTX computer, I think that some of the prices are just crazy - don't let me stop you though - in fact, if you want to be the first to break the 4-figure ceiling, I could even let you have one of mine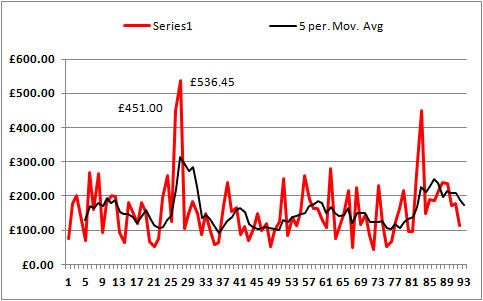 Clicking on the Price header will sort the table by sale price (not including P&P)
Original ebay Description (may have been edited to fit)
Date

mm/yy

Price

UKP

Main ebay Photo(s)
Memotech MTX512 + FDX Expansion Unit

Memotech MTX512 + FDX Expansion

Machine is fully working and in great condition. MTX512 is fitted with the dual serial expansion that also links it to the FDX unit.

FDX is fitted with a single floppy drive along with a Gotek floppy emulator (HxC Firmware). Also installed in the FDX unit is an 80 column video board and a 1Mb silicon disc.

Comes with a copy of CP/M. Originally, this machine was a 110V NTSC unit but the power supply has been converted to run on 240v.

ebay item no. : 223022059579 seller: ph00l-uk
06/18
£947.00

£15.00

Memotech MTX 512 vintage computer / working PSU / Manual / No Tape Player

Vintage computer system for sale. Has original PSU, manual and a few games but no tape deck so unable to fully test. I have turned the system on and connected to a TV and it seems to work fine but some of the keys stick when typing.

ebay item no. : 112940096482 seller: legacy1979
04/18
£113.00

Collect

Only

Memotech MTX 500

Beautiful Memotech MTX 500 for sale here. Incredible time - warp condition as everything appears almost brand new. Comes boxed with all leads and manuals. Collection only as this is heavy - if you wish to arrange your own courier that's fine. Any questions please ask.

ebay item no. : 183149393438 seller: antboygreen
04/18
£200.00

Collect

Only

(Sold off

ebay)

MEMOTECH MTX 500 Rare Vintage Computer Console System Qwerty Keyboard Set

This is a rare vintage Memotech MTX 500 computer console system which comes with the original box, power supply unit, original tapes, cables and operators manual.

ebay item no. : 312095482658 seller: stuffusell
03/18
£252.95

£6.79

Memotech MTX 500 32K Vintage Personal Computer

Generally in very good condition given it has been in my attic for many years. The keys are a little stiff but all are working. The hood on the power socket has come lose. The blank C15 tape is missing. All pretty minor things. Otherwise it's in mint condition.

ebay item no. : 132542206563 seller: z2ustw0
03/18
£227.22

£2.90

Rare Vintage MEMOTECH MTX 512 Computer System

Rare vintage Memotech MTX512 computer tried and tested, in full working order as shown in pictures, in very good condition. Includes:
•MTX power supply unit
•Demo tape and 4 games
•1 Memotech manual book
•Cassette and tv leads
•New portable cassette player/recorder
•Key board cover
•Original box

ebay item no. : 183110500907 seller: carojorda_25
03/18
£399.99

£30.00

Vintage MEMOTECH MTX500 Computer .... offers welcomed..

VINTAGE .. MEMOTECH MTX500 COMPUTER
THE COMPUTER COMES IN ITS ORIGINAL PROTECTIVE POLY .. COMES WITH THE ORIGINAL PSU, LEADS AND THE 2 MTX CASSETTES, 'DEMONSTRATION TAPE' AND 'HEAD CLEANER'
. . . .
THE COMPUTER UNIT APPEARS TO BE IN GOOD CONDITION. HOWEVER, IT DOES HAVE SOME SMALL MARKS AND WEAR IN PARTS.. MISSING A RUBBER FOOT TO THE BASE.. THE POWER SUPPLY UNIT AND CASSETTES ARE ALL IN GOOD CONDITION.. THE POLY IS IN OKAY CONDITION.. SOME SQUASHING AND MARKS IN PARTS.

ebay item no. : 173190762147 seller: kes.ves
03/18
£225.00

£15.00




Memotech mtx500 with games

Powers up unable to test on screen as my TV is not compatible This item has come from a house clearance so have no further info

ebay item no. : 173178046986 seller: willponia
03/18
£215.66

£5.00

Memotech MTX512 (Parts Only) Vintage Computer

For Parts Only. Includes the polystyrene molded shell, but no outer box.

Memotech MTX512 vintage computer, missing the keyboard.

Included: Molded protective shells Memotech MTX512 Computer minus keyboard Memotech Power Supply Demo tape and two games 1 Memotech book

ebay item no. : 192442572135 seller: camchelle
02/18
£21.19

£0.00

collect

Memotech MTX512 Vintage Computer

A fully working, boxed Memotech MTX512 vintage computer. with accessories, manuals etc. The keyboard does have considerable bounce, making it tricky to type something!

Included: Box and molded protective shells Memotech MTX512 Computer Memotech Power Supply Memotech FDX Single Disk Hardware (we think) see last photo of Board. This is untested Operating manual - has a sleeve for 2 floppys, but there are none in it Head cleaner and demo tape 8 Games 2 Memotech books Loads of Memotech User Group magazines


ebay item no. : 192442041208 seller: camchelle
02/18
£212.12

£0.00

collect

Memotech MTX 500 32K Vintage Personal Computer

MemotechMTX500 I have had this for a number of years now, sadly most of the time instorage. I now need to rationalise my vintage computer collection, down to thechosen few! Here we have my Memotech MTX 500, which comes with the original PSU and somemanuals and litrature. I have onlytested it with the modulator output on my old portable TV. As it has been stored for so long it has the classic condition of someof the keyboard keys sticking and repeating characters. Therefore, the keyboard will need a goodcleaning, but as it uses the same key switches as the Acorn Master, which aregood quality units, then it should be perfectly serviceable. It has had a basic power up test and been left on for a while. The inside is clean and the capacitors lookOk. The stripping on the TV is due to camera synchronisation and not afaulty modulator.

ebay item no. : 152876323451 seller: errorline10
01/18
£148.66

£20.00

MEMOTECH MTX512 Z80 COMPUTER WORKING BUT WITH STICKY KEYS

Condition as per photos. Only 2 of the original case screws remaining

This machine is working but has sticking and occasionally repeating keys.

I have not done anything with this machine (my last one, for now). I might add more photos later.

Comes with manual, PSU, TV lead only See photos inside and out.

ebay item no. : 391867221073 seller: einstein.186
08/17
£125.00

£19.99

Very Rare Memotech MTX512 Computer / Memotalk Speech Synthesizer

I am selling on behalf of a family member whom was an avid collector of vintage computers. This has been stored in a storage chest within their spare room and has always had the protective cover over the keyboard.

The Memotech MTX512 computer can be seen working as displayed in the images. I would also like to add the computer has been carefully taken apart by a trained IT engineer for photographs and to check the condition, which in his personal opinion is very clean inside and dust free for a computer made in 1983.

Contents to include : 1 x Original Memotech power brick 1 x Memotalk Speech Synthesizer (untested) 1 x Memotalk keyboard protection cover 1 x Standard aerial 1 x Unknown cassette tape

ebay item no. : 292193022950 seller: timeless-captions
08/17
£299.00

£9.99

Relisted

08/17

Boxed memotech mtx512 computor. [sic]

A boxed and as new memotech MTX 512 computer system. Rare vintage computer.

ebay item no. : 253095621571 seller: nigel421nigel
08/17
£334.00

£2.90

MEMOTECH MTX512 Z80 COMPUTER WORKING BUT WITH STICKY KEYS

Condition as per photos. Only 2 of the original case screws remaining

This machine is working but has sticking and occasionally repeating keys.

I have not done anything with this machine (my last one, for now). I might add more photos later.

Comes with manual, PSU, TV lead only See photos inside and out.

ebay item no. : 391855471129 seller: einstein.186
08/17


£150.00

£19.99

Relisted

08/17

Vintage Memotech MTX500 computer

MTX500 in mint condition with packaging (cardboard box has the serial number of the computer on it too) Damage to top polystyrene, a hole. Demo tape and 2 games (frogger and draughts) Boots to BASIC and has the unique ability to drop into Z80 assembler code, I used this computer at college for my HNC in computers then left it in the loft with its twin for over 30 years. This machine has had little use, but the RF output seems to wander slightly, the trimmer pot needs a minor tweak on the rf output module. This one has two RS232 serial ports out the back, with manual. The other memotech I'm selling does not. Throwing in a period cassette player with it.

ebay item no. : 292199592633 seller: teena_lowery
07/17
£275.00

£0.00

Vintage Memotech MTX500 computer

Memotech MTX500 MTX500 in mint condition with packaging (cardboard box has the serial number of the computer too) all original tapes and cables present. Boots to BASIC and has the unique ability to drop into Z80 assembler code. As far as I know this machine has never been used. This one of the two I'm selling. Does not have the serial communications card in it. software included: Robot arm control program spare demo tape x2 smart t-arms tutor memmac utility ramdisk utility / edasm source sort & search forth language membrane software edasm z80 macro assembler 12 other cassettes of unknown content, (actually they could be commodore pet, beeb micro or zx81!)
Lots of documentation: z80 printouts of various programs with written notes Operators manual for MTX series College instruction for MTX assembler and editor Memotech newsletter and magazine articles Photocopy manual of technical specifications The Source book by Keith Hook (photocopy) Programming book (photocopy) Memopad users magazine Vol 1 (issues 1-12), Vol 2 ( issues 1-12), Vol 3, issue1 I am also throwing in a period cassette player with the obligatory little hole to tweak the head for better data delivery.

ebay item no. : 302399305282 seller: teena_lowery
07/17
£325.00

£0.00

MEMOTECH MTX512 Z80 COMPUTER WORKING BUT WITH STICKY KEYS

Condition as per photos. Only 2 of the original case screws remaining

This machine is working but has sticking and occasionally repeating keys.

I have not done anything with this machine (my last one, for now). I might add more photos later.

Comes with manual, PSU, TV lead only See photos inside and out.

ebay item no. : 401373772805 seller: einstein.186
07/17


£125.00

£19.99

Relisted

07/17

MEMOTECH MTX512 Z80 COMPUTER WORKING BUT WITH STICKY KEYS NICE CONDITION

This machine is working but has sticking and occasionally repeating keys. I have not done anything with this machine (my last one, for now). I might add more photos later.

Comes with manual, PSU, TV lead, manual, cassettes and original polystyrene. See photos inside and out.

ebay item no. : 401358462891 seller: einstein.186
07/17
£150.00

£19.99

MTX512. Vintage 1980's computer by Memotech, c/w games & books

MTX512 Computer (not working)
Power supply unit (working)
MTX GAMES:- Toado Blobbo Pontoon Snappo Reversi Draughts Backgammon Kilopede Tapeworm Minefield Chess The Caves of Orb Murder at the Manor SYNTAX GAMES:- Hawkwars Combat Ghostly Castle Arcadians and Missile Command BOOKS:- The Memotech MTX Programme Book Peter Goode Memotech Computing Ian Sinclair The Memotech Games Book Owen Bishop and Audrey Bishop

ebay item no. : 162561371331 seller: moors.2014
06/17
£114.00

£25.00

MEMOTECH MTX 512 z80 COMPUTER PARTIALLY WORKING / NEEDS ATTENTION EARLY VERSION

MEMOTECH MTX 512 RETRO Z80 COMPUTER, PARTIALLY WORKING / NEEDS ATTENTION

This machine has working video (See photos) but has sticking and repeating keys. I have cleaned this one a fair bit and has an interesting memory config (see photos). I don't think I've done a great job of putting it back together but maybe the next owner will have more patience. I might add more photos later. Comes with manual, PSU, TV lead and original tatty polystyrene. See photos inside and out.


ebay item no. : 401343998643 seller: einstein.186
06/17
£177.00

£19.99

Memotech MTX512 computer in original box with accessories including speculator

MEMOTECH MTX512 In full working order as shown by the ready screen and a little very BASIC for next loop to print some numbers. All keys works despite a couple being sticky when first used - all seem fine now. This has been owned by my father since he purchased it in the 1980's.
Here's whats included: MTX512 IN IT'S ORIGINAL BOX/FITMENT - SERIAL NUMBER SHOWN IN THE IMAGES ORIGINAL MEMOTECH POWER SUPPLY COMPLETE WITH UK PLUG ORIGINAL MEMOTECH RF ARIEL LEAD. ORIGINAL MEMOTECH HEAD CLEANING TAPE. PHYSICS REVISION CASSETTE. SORRY BUT I DON'T HAVE ANY OF THE MANUALS, BUT LOTS OF THEM ARE AVAILABLE TO DOWNLOAD FREE ONLINE AT http://www.primrosebank.net/computers/mtx/mtxmanuals.htm#software ALSO INCLUDED IS THE SPECULATOR PLUG IN MODULE COMPLETE WITH SPECULATOR TAPE NUMBER 1 AND INSTRUCTIONS - ALL IN ORIGINAL BOX/FITMENT. I AM ALSO THROWING IN FOR FREE: QUICKJOY JOYSTICK IN ORIGINAL BOX ALBA TAPE CASSETTE RECORDER COMPLETE WITH TRANSFER LEAD IN ORIGINAL BOX - REQUIRES STANDARD POWER LEAD.

ebay item no. : 282477958443 seller: looniesatmeg3
05/17
£172.00

£5.00






MEMOTECH MTX 512 RETRO COMPUTER PARTIALLY WORKING / NEEDS ATTENTION

The video board seems to be putting out grey on grey video.

Not too difficult to fix but my eyesight is not up to it (I need new specs)

Also, there are some sticking keys. It's better than when I bought it (from ebay, where else....) but I have too much in my life to sort out, so here it is.

ebay item no. : 391777698377 seller: einstein.186
05/17
£235.00

£14.99

MEMOTECH MTX 512 RETRO COMPUTER

Memotech MTX 512 Retro Computer
Good condition with working power lead.
Untested as I don't have suitable monitor, but the computer gets warm when on for 10mins or so.
It comes with 3 tapes.

ebay item no. : 382073609451 seller: mr-bux
05/17
£240.17

£10.00

Memotech MTX 500 Retro Computer

Used and working Boots to 'Ready'

I Believe in Very Good Condition See Photos

Comes With power Unit, Manual Will Need Lead For TV.

ebay item no. : 332202451416 seller: swissanimal
05/17
£216.00

£20.00

Memotech MTX 512 Computer with original box and accessories

This auction is for a vintage Memotech MTX512 computer with original box and accessories. It is in good condition for its age and it powers up to the Ready prompt as you can see in the pictures. It comes with Power Supply TV Aerial cable Operators manual Basic tutor, reference & operators manual Sealed MTX branded C15 cassette Sealed MTX branded Head Cleaning cassette Memotech Demonstration cassette Word and Picture matching cassette Toado Cassette Thanks for looking and happy bidding.

ebay item no. : 322497707033 seller: symzchap
05/17
£186.57

£20.00

Memotech MTX 512 Retro Computer

In mint condition with all leads. TV lead, power lead, tape connector leads. No original box or manual Lovely condition. Excellent construction. Untested as i dont have a suitable monitor. The power lead button turns red so that seems to be working, and the computer gets warm when on for 10 mins or so.

ebay item no. : 302293830542 seller: barboursandvintageclassics
05/17
£190.00

£9.99

Memotech MTX 500 Vintage Computer Console

Rare Memotech 500 console. This has been used twice. All items are in place. One tape has been used opened.
A great working item.

Comes in its original packaging of polystyrene and cardboard box.

ebay item no. : 192165985028 seller: reds400
04/17
£375.00

£10.00

Memotech MTX 512 Retro Computer

Memotech MTX 512 Retro Black computer.

Used and working Boots to 'Ready'

Comes with power unit, manual will need lead for tv lead.


ebay item no. : 232304084939 seller: swissanimal
04/17
£150.00

£20.00

Memotech MTX 500 Vintage Computer Console

Rare Memotech 500 console. This has been used twice. All items are in place. One tape has been used opened.
A great working item.

Comes in its original packaging of polystyrene and cardboard box.

ebay item no. : 192159323473 seller: reds400
04/17
£375.00

£10.00

Memotech MTX 512 Retro Computer 500 Immaculate Unused Mint Boxed

Memotech MTX 512 Retro black computer. As far as I know this is new and unused, Complete in its original box, software still wrapped, manuals, power supply, all cables.

Appears to work well, no sticky keys. Boots to the "Ready" prompt, memory check confirms 64KB (see photo) Box Says it is a US model and Keyboard has $ sign.

It tunes in fine to UK TV and power supply is 220/240v only. Ultra Rare. I found this 15 years ago in the air conditioned storage room of a Games Software company I used to work at. The Boss said it was given to the team to write software for, years before, but they had not used it. I have had it stored safely ever since.

Remember this is a 30 year old computer, so I am selling as is, no returns. Collection from TN4 OK

ebay item no. : 322484173804 seller: woodenbelly
04/17
£450.00

£15.00
MEMOTECH COMPUTER KEYBOARDS X 2

HERE I HAVE 2 MEMOTECH KEYBOARDS FOR THE MTX 500/512 AS YOU CAN SEE IN THE PICTURES SOME KEYS MISSING AND SPACE BAR
HAPPY BIDDING

ebay item no. : 122375070984 seller: 1970redarmy
03/17
£30.00

£6.00
MEMOTECH COMPUTER BOARD

THIS IS A SISTER BOARD FOR A MEMOTECH 500/512 COMPUTER. HAPPY BIDDING

ebay item no. : 122375050841 seller: 1970redarmy
03/17
£27.00

£5.00
MEMOTECH 128K/00043 COMPUTER BOARD

MEMOTECH 500/512 SERIES
128K MEMORY
HAPPY BIDDING

ebay item no. : 122375048652 seller: 1970redarmy
03/17
£82.00

£5.00
MEMOTECH DMX80 PRINTER



THIS IS AN ORIGINAL MEMOTECH DMX80 PRINTER IS UNTESTED BUT SWITCHES ON AS IT SHOULD AND LIGHTS UP. All SEEMS TO WORK FINE ELECTRICALLY. THESE ARE RARE VINTAGE PRINTERS HAPPY BIDDING

ebay item no. : 122375045827 seller: 1970redarmy
03/17
£300.00

£10.00
MEMOTECH MTX KEYBOARD AND BACKPLATE..NEW/OLD

MEMOTECH MTX KEYBOARD AND BACKPLATE..NEW/OLD SEE PICS FOR DESCRIPTION

ebay item no. : 122377542260 seller: 1970redarmy
03/17
£23.00

£6.00
MEMOTECH MTX 512 COMPUTER SYSTEM (MINT) VERY RARE

Memotech MTX 512 Very Rare Welcome To My Listing For A Piece Of Computer History This Is In Mint Condition. Honestly Looks Like New. Not A Mark On It In Good Working Condition As You Can See Comes With Its MTX 512 Power Supply Unit Original MTX 512 Polystyrene Inner Box Original Outer Cardboard Box In Great Condition (Some Writing On Front See Pics) RF Lead Software Loading Lead 3 A4 Game Posters Original Letter From The Company To The Owner Please Note Non Of The Keys Are Sticking. Which Sometimes Can Be A Problem With These.

This Is An Under Estimated Computer Of Its Time With Its Anodised Aluminium Case It Feels And Looks Great. A Vintage Computer That Will Only Ever Appreciate In Value Perfect For A Vintage Computer Collector Or Enthusiast Don`t Miss Out On This One You Will Not Find One In Better Condition. Thank You For Looking.

ebay item no. : 152451508547 seller: experiment15
02/17
£399.99

£20.00