DMX80 Printer
Configuration Switch Settings
The printer configuration is done by an 8 position DIP switch pack on the bottom of the printer.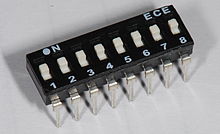 This information is from the Panasonic KX-P1090 Operating Manual. The DMX80 was built by Panasonic and has the same design as the KX-P1090.
Configuration Switch Settings
#
Function
OFF
ON
Default
1
Print Mode
Elite
Pica
ON
2
Skip Perforation
Skip
No
ON
3
Auto LF
Yes
No
OFF
4
7/8 Bit Select
8-Bit
7-Bit
OFF
5

International Character Selection

(See table below)

ON
6
ON
7
ON
8
1 Line Paper Feed
1/6"
1/8"
OFF
International Character Selection
| | | | |
| --- | --- | --- | --- |
| SW-5 | SW-6 | SW-7 | International Characters |
| ON | ON | ON | U.S.A. |
| ON | ON | OFF | France |
| ON | OFF | ON | Germany |
| ON | OFF | OFF | UK |
| OFF | ON | ON | Denmark |
| OFF | ON | OFF | Sweden |
| OFF | OFF | ON | Italy |
| OFF | OFF | OFF | Spain |
FDX Power Supply
Change voltage from 240VAC to 110VAC or vice-versa
Memotech power supplies are not auto-voltage sensing so, if you need to operate your FDX at a different mains voltage level, manual intervention is required.
Unless you've picked up an FDX from outside your own country, you are unlikely to need to do this, but anyway...
The FDX uses an Astec AC8151 PSU, to change the supply voltage between 240VAC and 110 VAC, you need to change a jumper on the PSU PCB. The details are in the Astec AC8151 Specifications / Datasheet on the manuals page.

Twin drive FDXs can also supply low voltage AC power to the MTX. They have an internal transformer identical to that in the MTX PSU. See the pictures of the MTX PSU on the photos page. I **think** that you should be able to change the tap position on the primary of the transformer to change it to 110VAC. However, I have not verified this, and until this has been confirmed, it would be safer to disconnect the transformer inside the FDX and use the correct MTX PSU - assuming that you have one of course!