| | |
| --- | --- |
| | The Commodore PET (Model : CBM 8096) |
Repairs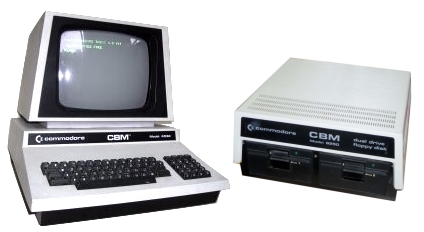 Introduction
This section describes a few repairs that I have done on my PET/CBM 8096, sometimes, based on my own (limited) knowledge and experience, but more often than not, with the aid of Google finding similar repairs done by other PET owners and/or support from the PET experts out there.
A really great resource in the UK is Dave Curran's Blog :
Dave has lots of interesting projects on his site and sells a nice range of USB keyboards built from 1980s vintage computers, such as Commodore VIC 20, Commodore 64, Sinclair Spectrums, etc.

More relevant to the PET though, Dave has done a lot of repairs to different PET models and has developed a range of excellent diagnostic tools and devices that he has also available for sale. Dave has been very helpful to me when trying to fault-find & repair my PET - thanks Dave!

Check out Dave's Blog and search for "PET "to see the great stuff that he has been doing -

. . . just say that "Dave sent you" :-)
My PET/CBM Repairs
RAM

RAM fault in the upper 16K on the 8096/8032 motherboard

PIA Faults
Expansion RAM
RAM fault in the memory installed on the 8096's 64kByte RAM board
Keyboard
Keyboard multiple dead keys
.