| | |
| --- | --- |
| | The BBC Microcomputer System (BBC Micro) |
BBC Micro Options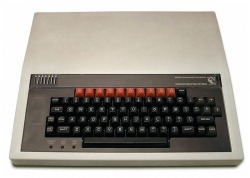 Introduction
There were a wide range of upgrades and add-ons available for the BBC Micro, sites like Chris's Acorns describe many of these in great detail. On this page, I will be focusing on the options that I have added, or intend to add, to my Model B.
The BBC Micro was available in a a number of different versions :-
Legacy Disk Drive Options
My Model B is the most basic "B", an ANB01 without any disk interface. Back in the day, Acorn offered a disk upgrade which consisted of an Intel 8271 Disk Controller, an Acorn Disc Filing System (DFS) ROM and 1 or 2 x 5.25" floppy disk drives.
The Acorn DFS is a single sided, single density 40 or 80 track format. A double sided disc can hold two DFS volumes. The DFS provided storage for up to 31 files and 200 kilobytes of data on a single sided disc, and up to 124 files and 800 kilobytes on a fully equipped BBC Micro with two double sided disc drives.
The 8271 disk controller was quickly obsolete and Acorn introduced an updated daughter board using the Western Digital 1770 Disk Controller with a 1770 DFS ROM. Around the same time, Acorn released the Advanced Disk Filing System (ADFS) ROM which took advantage of the features of the WD1770 to utilise double density disk support.
See this page for information on the disk drives used with the BBC Micro.
Contemporary Disk Options
DataCentre from RetroClinic
Other options that I have yet to document :-