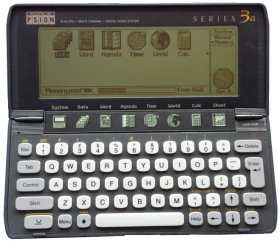 Overview
Psion introduced the Psion Organiser in 1984, with an 0.9 MHz 8-bit Hitachi processor, 4K ROM, 2K RAM, a 16 character, single line, display and a 6x6 keyboard with its letters laid out alphabetically. The Organiser was the first affordable (£99.95) "pocket" computer, but the first PDA really worthy of the name was the Psion Organiser II released two years later. There were a number of Organiser II models, ranging in price from £82 to £169, the top of the range model released in 1988 having a 20 character, four line, display, 64K ROM and 64K RAM. The Organiser II was capable of interfacing with external equipment and was used with industrial test equipment and in the retail market.
Later PDAs in the Psion range dropped the "Organiser" name, beginning with the Series 3, released in 1991. The Series 3 was a radically different design from the Organiser, it featured a compact "qwerty" keyboard and a much improved screen with 8 lines of 40 characters (240 X 80 pixels). The Series 3 had a NEC V30 4.7MHz 16-bit CPU, was available with 128kb (£179.00) or 256kb £249.00) of RAM and featured built-in word processor, spread sheet and database applications.
The next model in the Psion range was the Series 3a, released in 1993,with an upgraded CPU, a 7.68 MHz NEC V30H (80C86), initially available with 256kb and 512kb RAM versions, 1Mb and 2Mb models were added in 1995. The Psion 3a had the same case design as the Series 3, but had a higher resolution screen with a 480x160 pixel display.
Website Links

Gareth Saunders
A great resource for Psion PDAs, including the 3a