Eurocard Prototype Board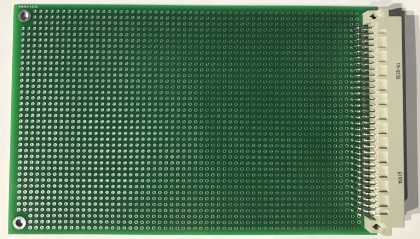 When I started developing MTXPlus+, I found some double sided Eurocard sized prototype boards that were almost perfect for my needs. However, the same type of boards no longer seem to be available and similar ones are hard to find and/or expensive. So that I could continue building prototype boards the same way, I designed a similar board in KiCad and had some manufactured in China and now have a few spares that I am making available for purchase. The price is £9.99, including free UK P&P.
The board was customised slightly for MTXPlus+ use, it includes a couple of holes at the left hand side for the 3U card mounting hardware that I use and it has been drilled to accept the optional securing bolts used for DIN 41612 connectors.


Specifications
PCB Dimensions :
100mm * 160mm
Layers:
2
PCB Thickness:
1.6mm
PCB Colour:
Green
Surface Finish:
HASL
Copper Weight:
1oz

The board has 60 x 38 0.1" (2.54mm) pitch, round solder pads, connected through to the other side of the board, making it double sided.
The board has hole numbers printed at 5 hole intervals on one side.
It is drilled to accept a Right Angled DIN 41612 connector with 64 or 96 pins as shown in the photo.

THE DIN CONNECTOR SHOWN IS NOT INCLUDED - PHOTO FOR ILLUSTRATION ONLY

There are also holes at the other end of the board for a card "puller".