The original weather station used to provide the data on this site was an Oregon Scientific WMR928NX Wireless Weather Station although Oregon Scientific has since has released an upgraded version, the WMR200. Information on the WMR968 is still available from the Oregon Scientific website here.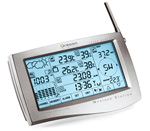 The weather station consists of a console which uses wireless communications to collect data from the anemometer, rain gauge, temperature and humidity sensors. The standard system includes an internal temperature, humidity and barometric pressure sensor which may be supplemented by up to three additional sensors. In this case, the standard internal sensor is located in the lounge, with additional sensors located in the conservatory, master bedroom and my home office.
The console also includes an RS-232 interface which may be connected to a PC running third party applications such as Virtual Weather Station from Ambient Weather. This product comes in three versions, Base, Professional and Internet with the Professional and Internet editions adding features such as data export and web site update functionality. The "Live" weather data on the pages on this site are updated every 20 minutes or so.
The weather station has been upgraded to a Davis Instruments Vantage Pro2 Plus but the Oregon station is still operational and provides a fall back to the Davis station.
The Owner's Manual supplied with the Weather Station was not particularly good. In the US, Radio Shack distributed a rebadged version on the WMR968 which had a far better manual. The Owner's Manual below was downloaded from the Radio Shack website here. The original Owner's Manual from Oregon Scientific's website is also available.