| | | |
| --- | --- | --- |
| | Soldering Station | |
Aoyue 968A+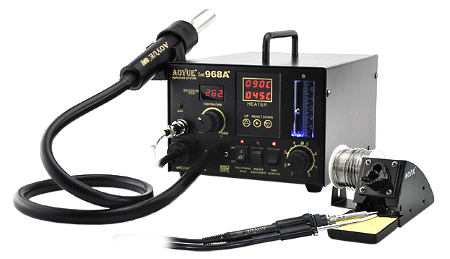 Overview
Until April 2016, construction of all of my electronics projects was done using a cheap, low powered, soldering iron, but, then I decided that I really needed something better. Initially, I thought that I just needed a better quality soldering iron, but with more and more components only being available in surface mount packages, I thought that I should get a solder rework station too. I did a bit of "Googling" and was overwhelmed by the number, variety and price ranges of the systems that were available. I eventually chose a Aoyue 968a+, this is manufactured in China, but seemed to get pretty positive reviews.
Function & Features
Micro-processor-controlled electro-static-discharge (ESD) safe unit
Easy-to-use touch type panel controls with digital display
Environment-friendly repairing system that integrates hot air gun, soldering iron, and smoke absorber in one package
Built-in smoke extractor that absorbs fumes created at the source
Knob type soldering iron temperature control for simple yet efficient working temperature selection
Intelligent error-reporting mechanism, detects and reports problems with the sensor and heating element
Auto-cooling functionality. Blows air to cool down the system to a safe temperature before tuning off.
Compatibility with various types of air nozzles.
Compatibility with different kinds of soldering tips.
Main Unit

Photo of the main unit, annotated to identify the function of the various displays and switches.
Soldering Iron

As the photo shows, the combined iron and smoke absorber is a little thicker than the iron alone would be, but it is surprisingly comfortable to hold and use.
Soldering Iron

The soldering iron tip, the narrow tube above the tip is the smoke absorber.

Soldering Iron Stand

The soldering iron stand, with shaped hole to take the customised profile of the tip and smoke absorber.

The stand includes a solder reel holder which is a nice touch.
Heat Gun

The heat gun is supplied with air from the pump inside the main unit and a heater in the body of the gun raises the temperature to the value set on the display.
Heat Gun Nozzles

The heat gun is supplied with a range of nozzles suitable for desoldering various SMT components
2.5 mm (1124) For removing resistors and capacitors
4.4 mm (1130)
7.0 mm (1196)
9.0 mm (1197)
12.0mm (1313) For removing BGA components
IC Popper

Also included is an "IC popper", a new one on me, but the thin wires are supposed to slide under an IC as you heat it with the heat gun and "pop" the IC off the PCB
Aoyue 968a+ Product Specifications
Hot Air Gun
Power Consumption
550W
Temperature Range
100°C- 480°C
Heating Element
Metal Heating Core
Pump Type
Diaphragm pump
Air Capacity
23 L/min (max)
Soldering Iron - Aoyue B003A With Smoke Absorbing Function
Power Consumption
70W
Output Voltage
24V
Temperature Range
200°C- 480°C
Heating Element
Ceramic heater
Tip to Ground Resistance
Below 2 Ω
Tip to Ground Potential
Below 2mV
Dimensions and Weight
188 x 126 x 246 mm; 8 kg (main station)