| | | |
| --- | --- | --- |
| | Photography | |
Canon EOS 5D Mk IV Battery Grip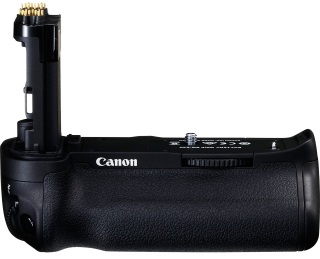 The Canon BG-E20 Battery Grip for my EOS 5D is shown above. The vertical plastic column fits inside the camera in place of the standard battery and the grip secured by screwing into the camera's tripod mount, with the grip having it's own tripod mount in its base.
The Battery Grip is quite expensive, at the time of writing, the UK list price was £329.99. If the only reason to get the grip was to be able to have two batteries installed to double the cameras shooting time, then it would probably only appeal to a very small minority of 5D owners.
However, the biggest advantage is probably the way that the grip helps hold the camera when shooting hand-held in portrait mode with a heavy lens attached. The revised hand position and additional secondary camera controls on the grip does make it easier to hold the camera/lens in this scenario.
Overview (from the Canon UK website)
"Enhance the EOS 5D Mark IV handling and use two batteries at once for extended shooting
This add-on grip for the EOS 5D Mark IV improves handling when shooting vertically, providing different ergonomics and alternative controls. It also allows two batteries to be used at once so you can shoot for longer before recharging.
Benefits
Adds an additional set of controls positioned for vertical shooting.
Shoot steadily and comfortably with extra grip when holding your camera vertically
Uses two LP-E6/LP-E6N batteries for longer shooting times"